mmon

micro-mon - Simple CLI system and OS information tool for Linux and OS X implemented in node.js
Quick Start
Installation & Start
Press q (quit) or CTRL-c to exit mmon.
Features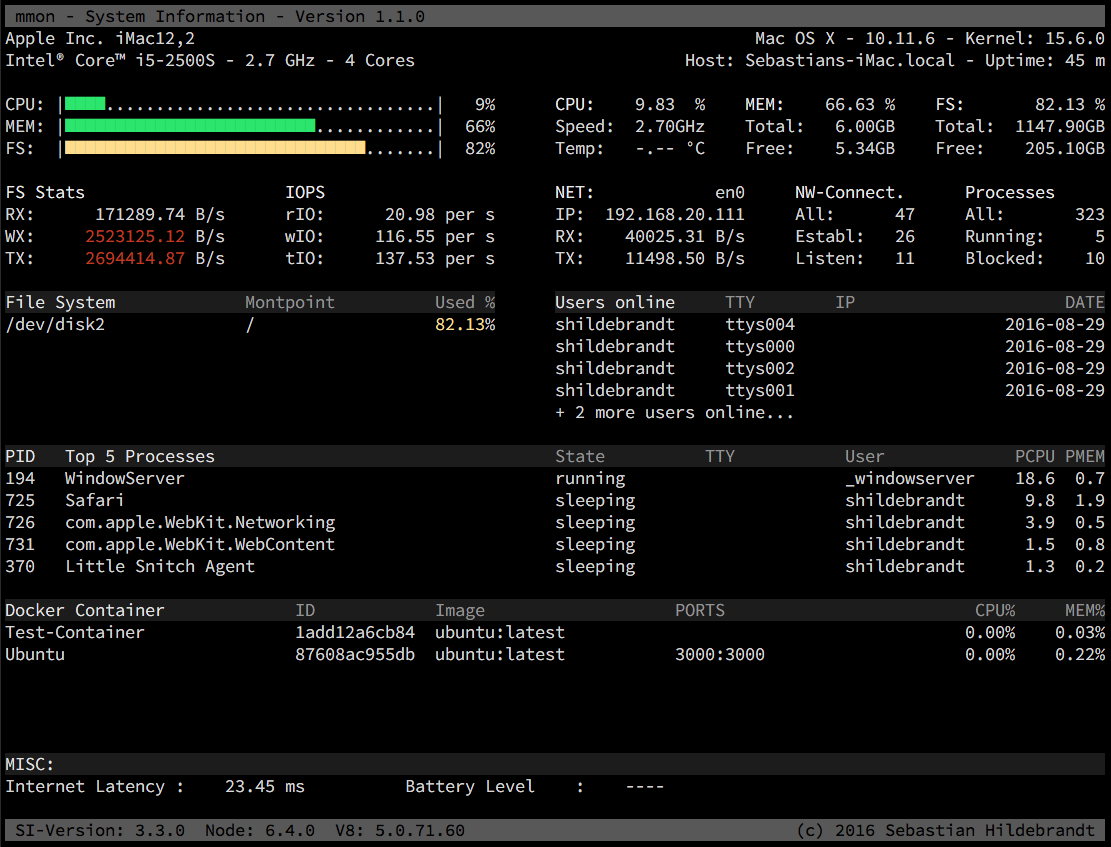 current CPU load
current MEM usage
file system usage (overall and per mount)
file system stats (R/W per second, IOPS)
network stats (rx, tx per second)
# network connections
# processes
top processes
users online
docker containers
I tested it on several Debian, Raspbian, Ubuntu distributions, inside Docker containers as well as OS X (Mavericks, Yosemite, El Captain).
This CLI tool depends on the systeminformation npm package that I wrote. Have a look at it, if you are interested.
Command Line Options
Set interval
The default update interval is 2 seconds but you can change it easily: the following command line option sets it to 5 seconds:
mmon -i 5 

Version history
| Version | Date | Comment |
| --- | --- | --- |
| 1.1.5 | 2017-02-19 | dependencies bump |
| 1.1.4 | 2016-11-03 | minor refactoring, dependencies bump |
| 1.1.3 | 2016-11-02 | bug fix mem total, dependencies bump |
| 1.1.2 | 2016-08-30 | tiny fixes, design improvement |
| 1.1.1 | 2016-08-30 | systeminformation dependency bump |
| 1.1.0 | 2016-08-29 | top processes |
| 1.0.4 | 2016-08-23 | tiny fixes (merge, use strict) |
| 1.0.3 | 2016-08-19 | tiny improvement, updated copyright notes |
| 1.0.2 | 2016-08-19 | tiny fixes |
| 1.0.1 | 2016-08-19 | documentation update, colors |
| 1.0.0 | 2016-08-19 | initial version |
Comments
If you have ideas or comments, please do not hesitate to contact me.
Happy monitoring!
Sincerely,
Sebastian Hildebrandt, +innovations
Credits
Written by Sebastian Hildebrandt sebhildebrandt
Contributers
none so far. Comments, pull requests welcome ;-)
Copyright Information
Linux is a registered trademark of Linus Torvalds, OS X is a registered trademark of Apple Inc., Windows is a registered trademark of Microsoft Corporation. Node.js is a trademark of Joyent Inc., Intel is a trademark of Intel Corporation, Raspberry Pi is a trademark of the Raspberry Pi Foundation, Debian is a trademark of the Debian Project, Ubuntu is a trademark of Canonical Ltd., Docker is a trademark of Docker Inc. All other trademarks are the property of their respective owners.

License
The MIT License (MIT)

Copyright © 2014-2017 Sebastian Hildebrandt, +innovations.

Permission is hereby granted, free of charge, to any person obtaining a copy of this software and associated documentation files (the "Software"), to deal in the Software without restriction, including without limitation the rights to use, copy, modify, merge, publish, distribute, sublicense, and/or sell copies of the Software, and to permit persons to whom the Software is furnished to do so, subject to the following conditions:

The above copyright notice and this permission notice shall be included in all copies or substantial portions of the Software.

THE SOFTWARE IS PROVIDED "AS IS", WITHOUT WARRANTY OF ANY KIND, EXPRESS OR IMPLIED, INCLUDING BUT NOT LIMITED TO THE WARRANTIES OF MERCHANTABILITY, FITNESS FOR A PARTICULAR PURPOSE AND NONINFRINGEMENT. IN NO EVENT SHALL THE AUTHORS OR COPYRIGHT HOLDERS BE LIABLE FOR ANY CLAIM, DAMAGES OR OTHER LIABILITY, WHETHER IN AN ACTION OF CONTRACT, TORT OR OTHERWISE, ARISING FROM, OUT OF OR IN CONNECTION WITH THE SOFTWARE OR THE USE OR OTHER DEALINGS IN THE SOFTWARE.

Further details see LICENSE file.