verify-certification
verify-certification is a node module to verify the authenticity of MOOC course completions
Installation
Use npm to install verify-certification.
npm install verify-certification
Usage
Import
Verify
verify() method takes certificate type and certificate ID as parameters and returns an object with the certificate details (if valid)
Example
Certificate Object
The method returns an object that is not unique across all certificate types. Please refer to the table for the list of parameters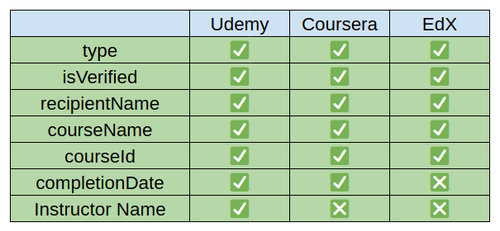 Contributing
Pull requests a Description For major changes, please open an issue first to discuss what you would like to change.
License
Disclaimer
This is an unofficial package. Package contributors are not responsible for any misuse.