react_draft_lq
An open source react rich-text editor ( mordern react editor includes media support such as texts, images, videos, audios, links etc. ), development based on Draft-Js and Ant-design, good support html, markdown, draft-raw mode.
一款基于 draft-Js 和 ant-design 实现的 react 富文本编辑器,支持文本、图片、视频、音频、链接等元素插入,同时支持HTML、markdown、draft-raw格式。
Live demo
Disabled media insert feature on demo page, because of there was no online API support for the time being, here is The server side API demo in java you may want.
因为上传图片视频多媒体等文件需要后端服务器接口配合,这部分暂时没有实现在线demo接口,所以暂时通过配置去掉了,java版本接口实现示例请参考示例代码。
Install
npm install react-lz-editor --save
Version note: React 15.4.2+ and react-dom 15.4.2+ is required. Antd version at last 2.8.3 in your project is recommended.
版本号说明:react、react-dom 版本必须在15.4.2以上,Antd版本最好在2.8.3以上。
Git
git+ssh://git@https://github.com/qingege/react_draft_lq.git

Usage & Examples
      content

:

 

`

<h1>一级标题 Head level 1</h1>

              <p style='text-align:center;'><span style="color:#ED5565">红色文字</span>,居中对齐,<strong>加粗</strong>,<em>斜体</em></p>

              <blockquote style='text-align:left;'><span style="color:#ffce54">其</span><span style="color:#a0d468">他</span><span style="color:#38afda">颜</span><span style="color:#967adc">色</span> <span style="color:#a0d468">C</span><span style="color:#48cfad">OL</span><span style="color:#4a89dc">O</span><span style="color:#967adc">R</span><span style="color:#434a54">S</span></blockquote>

                <li><span style="color:#434a54">list 1</span></li>

                <li><span style="color:#434a54">list 2</span></li>

                <li><span style="color:#434a54">list 3</span></li>

                <li><span style="color:#434a54">......</span></li>

              <pre><code>Block here.Block here.Block here.Block here.</code></pre>

              <pre><code>Block here.Block here.Block here.Block here.Block here.</code></pre>

              <pre><code>Block here.Block here.Block here.Block here.Block here.</code></pre>

              <p><img src="

https://image.qiluyidian.mobi/43053508139910678747.jpg

"/></p>

              <h3>乐视金融传将收购数码视讯子公司,拿下互联网、数字电视两张支付牌照</h3>

              <p>用场景化的方式表达就是,用户可以在观看电视购物频道的时候,直接从电视上进行支付购买商品,不用再通过银行汇款或者货到付款;可以选择对电视上的点播内容进行付费,还可能在电视上对水电煤等公用事业费用进行缴费。</p>

              <p>一度金融的消息称,乐视金融同数码视讯的接触尚处在高层范围内进行,因此对于收购价格,暂时还不能确定。</p>

              <p>如果乐视金融拿下数码视讯的两张金融牌照,并且在到期后能够获得央行审核顺利延期,意味着乐视可以通过移动设备和电视两个终端来链接用户的银行卡。</p>

              <p>乐视金融在去年11月份首度公开亮相的时候,缺少银行和支付两张关键牌照就一直是外界关注的问题。</p>

`

    

this

receiveHtml

 

=

 

this

receiveHtml

;

      QINIU_URL

:

 

"

http://up.qiniu.com

"

 

      QINIU_IMG_TOKEN_URL

:

 

"

http://www.yourServerAddress.mobi/getUptokenOfQiniu.do

"

 

        url

:

 

"

http://www.yourServerAddress.mobi/doQiniuPicPersist.do

"

 

      QINIU_VIDEO_TOKEN_URL

:

 

"

http://www.yourServerAddress.mobi/getUptokenOfQiniu.do

"

 

      QINIU_FILE_TOKEN_URL

:

 

"

http://www.yourServerAddress.mobi/getUptokenOfQiniu.do?name=patch

"

 

      QINIU_IMG_DOMAIN_URL

:

 

"

https://image.yourServerAddress.mobi

"

 

      QINIU_DOMAIN_VIDEO_URL

:

 

"

https://video.yourServerAddress.mobi

"

 

      QINIU_DOMAIN_FILE_URL

:

 

"

https://static.yourServerAddress.com/

"

 

      importContent

=

this

state

content

      cbReceiver

=

this

receiveHtml

      uploadConfig

=

uploadConfig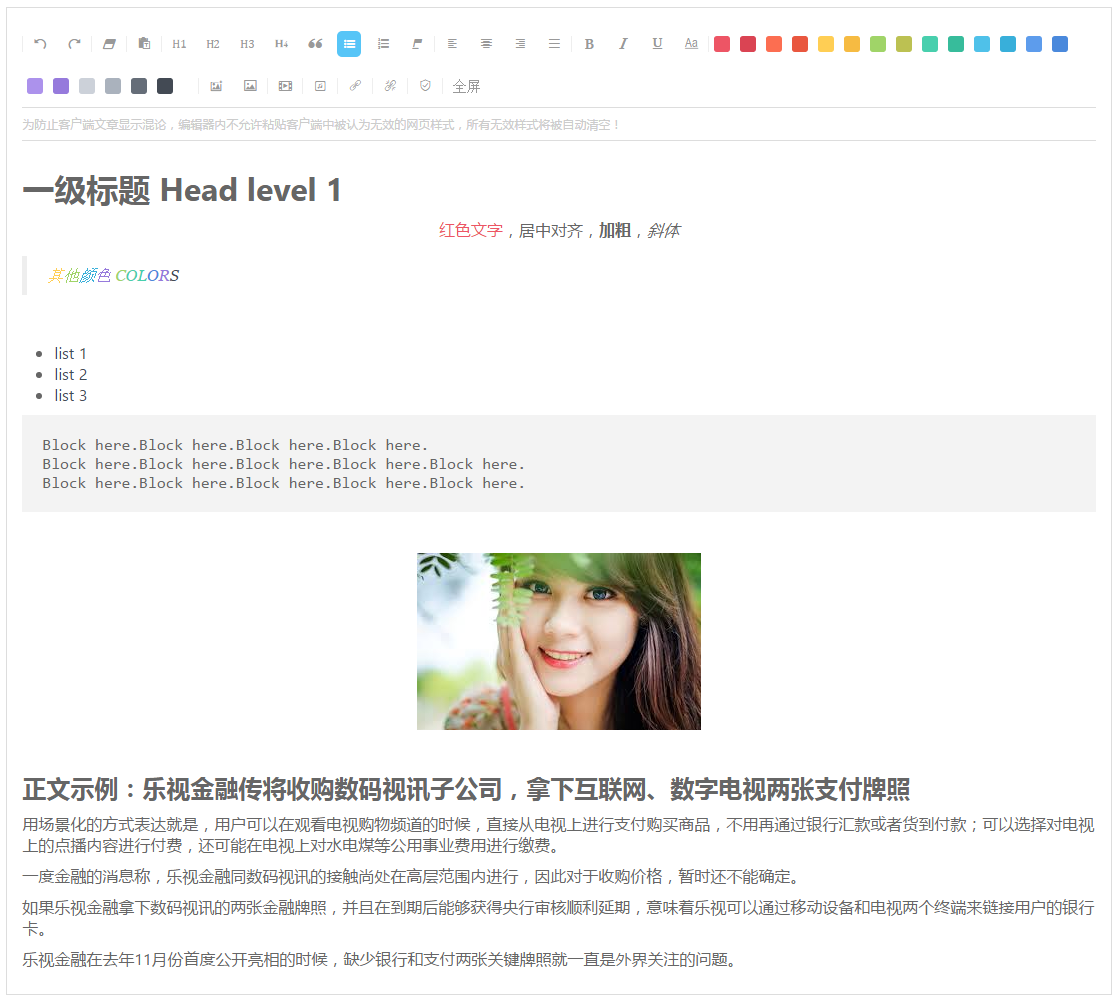 API
| 配置项 | 类型 | 默认值 | 说明 |
| --- | --- | --- | --- |
| active | bool | false | 有更新时是否刷新 |
| importContent | string | "" | 编辑器显示内容 |
| cbReceiver | function | null | 编辑器内容更新后的回调函数,此函数接受一个改动后的返回参数值 |
| undoRedo | bool | true | 是否启用撤销恢复功能,默认启用 |
| removeStyle | bool | true | 是否启用移除格式功能,默认启用 |
| pasteNoStyle | bool | true | 是否启用文本粘贴功能,默认启用 |
| blockStyle | bool | true | 是否启用段落样式设置功能(H1、列表、区段等),默认启用 |
| alignment | bool | true | 是否启用文本对齐设置功能,默认启用 |
| inlineStyle | bool | true | 是否启用文字样式设置功能(加粗、倾斜、下划线等),默认启用 |
| color | bool | true | 是否启用文字颜色设置功能,默认启用 |
| image | bool | true | 是否启用图片上传后插入功能,默认启用 |
| video | bool | true | 是否启用音视频上传后插入功能,默认启用 |
| urls | bool | true | 是否启用添加删除链接功能,默认启用 |
| autoSave | bool | true | 是否启用自动保存功能,默认启用 |
| fullScreen | bool | true | 是否启用全屏功能,默认启用 |
| convertFormat | string | "html" | 设置内容导入导出格式,支持html、markdown、raw三种格式,默认html |
| uploadConfig | object | null | 启用媒体上传后插入功能时,上传参数配置对象 |
QA