PostCSS-Sketch Plugin -
Just playing with bringing Sketch colours, styles, structure, etc directly into CSS from SketchApp using PostCSS.
TL;DR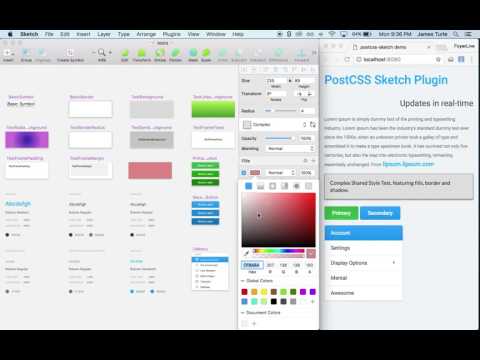 Currently Supported Sketch Attributes
textStyles

font, size, color, line-height, weight, style

sharedStyles (background, border)

fills

solid background
linear background
radial background

border
box-shadow
padding, margins etc (needs work)

symbols
TODO
Improve documentation (Ughhh - Options, Design Tips)
Remove repetition for nested items
Sort out ordering of rules
Update reference structure? @extends?
Supprt image assets & SVG
Quick example...
This "CSS"...
Becomes this CSS
Based on 'test/source.sketch'
Nested Symbol Support
Little demo of working with a semantic-ui-react Menu component... Check out the tests.sketch file to see the naming convention for nesting.
One line of "CSS"
Becomes the following (accurate) mess CSS
Try it?
Clone the package, yarn install, yarn dev, visit http://localhost:8080. Open tests.sketch. Have a play!
Use it? - Installation
yarn add postcss-sketch --dev - good luck :/ let me know how you go...
Add the plugin to your PostCSS configuration.
Bonus Feature!
One of the coolest things about using postcss with postcss-sketch is that once the bindings are setup, you can modify the sketch styles & design and watch your web app/site update in real-time using the magic of webpack, and webpack-dev-server.