Man O' War Logger
Have difficulty matching concurrent request event logs?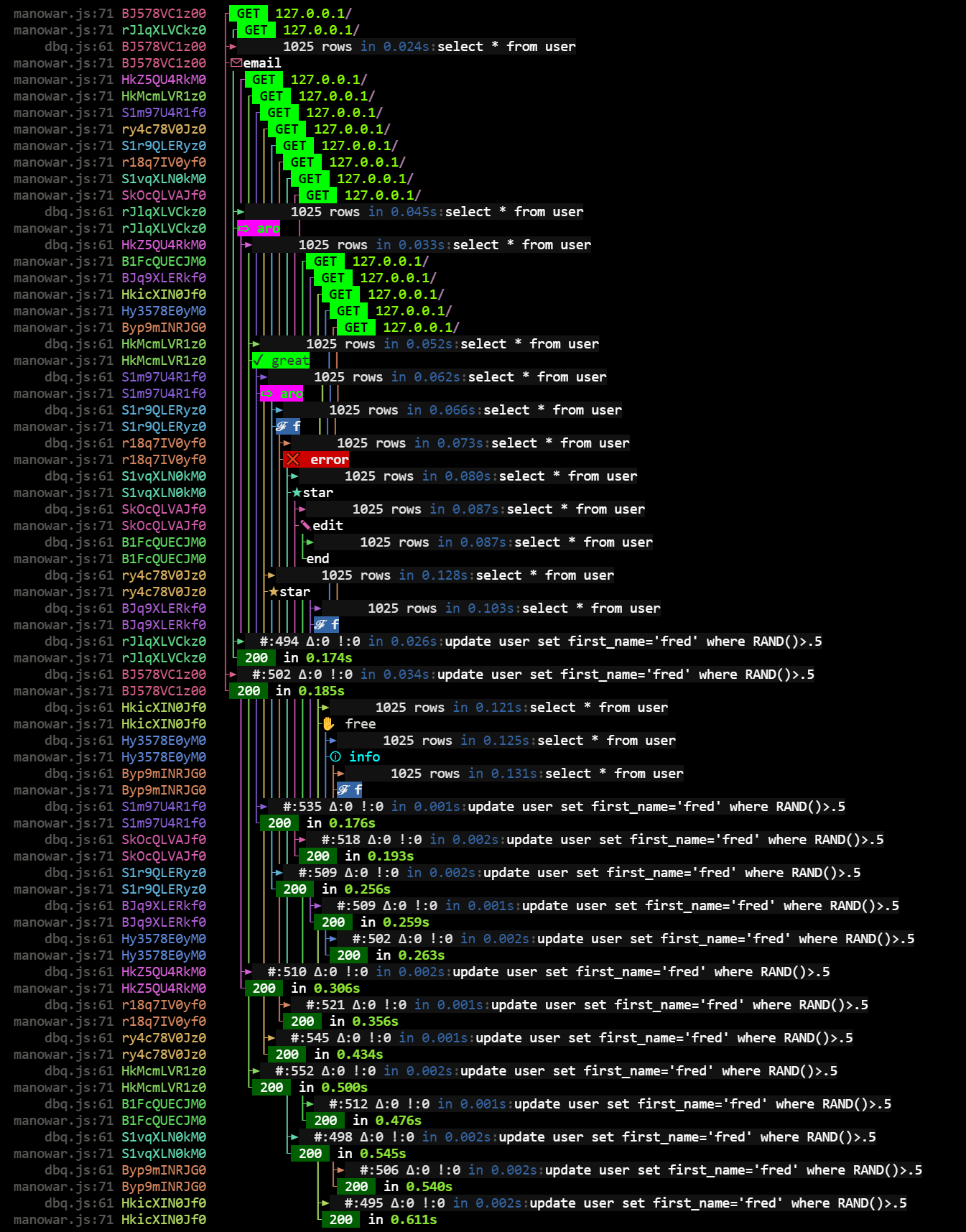 This module provides a live logger that indents each request's logs a uniform amount, connecting them all along a line. (or tendril on a Portugese Man O' War!)
This helps visualize a few things:
in what order async events occur ...in sync (so this isn't applicable to true parallelism in, say, web workers)
which requests generated which logs in concurrent-traffic scenarios, supplemented by a correlation_id for records
how long requests take
file line references generating logs
also it is colorful
This requires a few things to work:
that you use the provided cc() logger, which is a terse, icon-able, chalk-colorable, extendable way to log things

(this also provides cc.sql, a log format ideal to plug into dbq, should you use that)

that you include the requestLogger express middleware atop your router (or above all the routes you want logs for), which itself does a few things:

initiate the request's indentation, which is maintained until it replies or dies
log out some req info
kill requests that take longer than forceRequestKillAfter milliseconds (defaults to 10 seconds)
times requests for reference
Usage & Options
        ellipsize

:

true

 

//

cut off log lines once they exceed window width

        

forceRequestKillAfter

:

10000

//

kill requests that take longer than this many milliseconds. Falsy = never.

        

false

 

//

a fxn for you to customize the incoming request log. Return false to defer to plugin default

        

overrideIconsWith

:

"

"

 

//

some displays don't correctly space icons & break the line display. Override them here

        

logBody

:

true

 

//

whether to log request bodies

        

fileNameSize

:

20

 

//

max width to allow for file names on the left

        

fileLineFilter

:

false

 

//

if you need a custom stacktrace filter to get the file name

        

maxIdLength

:

11

 

//

length of id col

        

idMaker

:

generate

 

//

if you want to supply IDs your own way

        

widthFudgeFactor

:

0

//

maybe process.stdout.columns lies on your box

        

logSync

:

false

//

fs.writeSync vs console.log

        

cc

:

//

any custom logging shortcuts you'd like.

    

//

[then add your routes, use logging wherever...like:]
Logging defaults
cc('text') logging works, but extra colors & icons are available at cc.* (if you leave icons on):

Additionally:
cc.chalk exists for you to stylize additional logs locally with chalk
cc.namespace will give you access to the current cls-hooked namespace manowar set up to manage indentation, should you like to use it or attach more info in a local scope.