Emic 2
A simple JS API to communicate with the Emic 2. Emic 2 is a module used to perform TTS. This particular version of the API is targeted to Tessel microcontroller.
Installation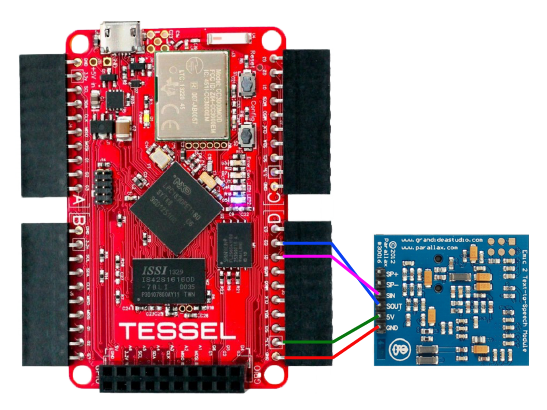 Initiating module
Methods
speak(txt) The main function that transform text to speech
setVoice(int) Change between 9 available voices in Emic2
     1: Huge Harry (Francisco)

     4: Doctor Dennis (Enrique)

     8: Whispering Wendy (Beatriz) 
setLanguage('es', ['lan']) Set the language used in TTS
     es: Spanish | [ lan: latino or ca: castilian ] 

    

emic2

 

//

Setting language to espanish
setVolume(int) Set the volume of the Emic 2
     -48 (softest) to 18 (loudest)
setRate(int) Set the speaking rate in words per minute from 75 (slowest) to 600 (fastest).
stop() Immediately stop the currently playing text-to-speech message. This command is only valid while a message is playing.
License
MIT
Free Software, Hell Yeah!